UNICEF RIGHTS RESPECTING AWARD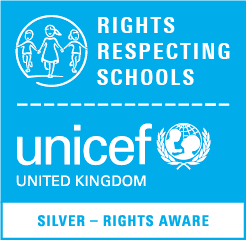 We are extremely proud to confirm that following an external evaluation, we have been awarded UNICEF Rights Respecting Schools Silver award. This means that we as a school have worked to ensure all our stakeholders are ;Rights Aware' and that we continue to be fully committed to this personal development. This award is one that we are extremely proud to have achieved as the values of our school are fully aligned to the RRS goals.
Our Pupil Leadership team and Mrs Askew have done an amazing job moving this work forward this year.